Happy 4th of July
July 03, 2018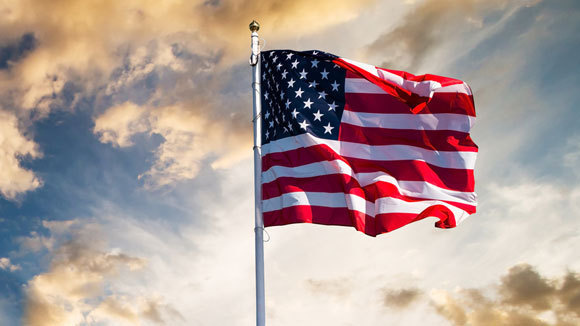 As I sit at my desk awaiting the end of the day so I can join my family to begin celebrating the 4th of July, thunder rolls and the American flag billows in the stormy winds outside the window in front of me. It is in this quiet moment I realize why we grill hamburgers and shoot fireworks every year when the calendar comes to this date. It was a bold thing the colonists did to declare independence from the most powerful empire on the planet. It is a bold thing for our stars and stripes to wave proudly no matter how hard the wind pulls it. It is a bold thing for men and women to sacrifice everything to protect the same independence that was declared 200 years ago.
Because of the freedom that we are blessed with in the United States of America, I am able to work with many of those bold men and women who have served to protect that very same freedom. Here's what the 4th of July means to some of them.
"For me, as for most Americans, the 4th is a holiday for BBQ's, fireworks, and leisure. But it's also a time to remember that Lord Cornwallis, with the might of the English Crown, Army, and Navy supporting him surrendered his sword to George Washington at Yorktown and America was thus independent of English rule after many hard years of conflict. Freedom is never Free."
-Tony Birmingham, U. S. Navy
"The Fourth of July is day that all of citizens should remember because of the signing of the Declaration of Independence from England to become a country of our own. We should remember those who have gone before who gave their lives defending this day…"
-Joe Yankura, U. S. Navy
"I feel no matter what your political stance is, one should be grateful for the country we live in due to the men and woman who serve this country with an unconditional sacrifice. They leave family, friends, comfort of home and careers behind to be "at the ready" in a moment's notice to serve and protect this country. I have personally seen people put their lives on hold for many years to serve our country. Some of them, people I am honored to call my friends, have come home with medical issues that prevent them from having a normal quality of life. The amazing thing is that they would do it all over again. They believe the sacrifices they made were worth it, allowing the freedoms we all get to live under continue. The fourth is one day we can set aside to honor such brave, self-sacrificing men and women and remind myself to be grateful we reap the benefits of their service. "
-Brenda Thayer, U. S. Navy
"As a US Marine Corps veteran, each year, the 4th of July brings mixed emotions, vivid memories, immense pride and profound thanks for the sacrifice so many have paid for my children to be free.
I myself am fortunate, my service did not take my life, but for others whom I was fortunate enough to fight shoulder to shoulder with, the ultimate price was paid. This 4th of July I hope that all of us as Americans will stop, look around at the great nation we are so privileged to live in and give thanks for those Like LCpl Matthew Holloway, Cpl. Ryan Kolda, LCpl Rodrigo Rodriguez-Velosco who's ultimate sacrifice guarantees our Freedom. Semper Fidelis… always faithful"
-Anonymous, U. S. Marines
"The 4th of July is a day of celebration with family and friends remembering and honoring the men and women that fought and died so I can live free. A celebration of the inalienable right of a people to govern themselves."
-Robbie Coss, U. S. Army
"Patriot: one who loves his country. I never knew how patriotic I was until I joined the Air Force . I served in the 50th bomb wing in a S.A.C. unit servicing B52's, and to this day dream of watching the big bird fly over us protecting us day and night. My job was a small part, to repair radios, transmitters, and other electronics on the aircraft. So every 4th of July I try and call all of my friends and family and thank them for their service. The 50th Bomb wing had a slogan that fit great for a true Patriot. "PEACE IS OUR PROFESSION" this slogan was everywhere on the base. Thank a Vet , and thank those who love this country! Happy 4th of July!"
-Mike Calvo, U.S. Air Force
Happy 4th of July